The Oak Moon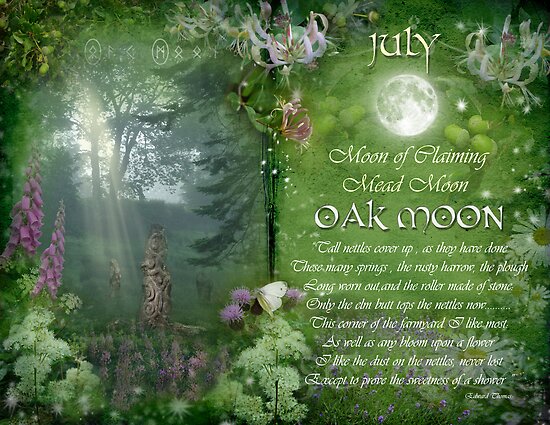 The Oak Full Moon was this past Wednesday!!!! Oh the Oak...a very powerful an interesting moon time.. One of my favorites in a sense because it's all about strength..and I need that.
This past week I came acrossed some neighbors...who to be honest I used to perceive as your typical nosy neighbors...a elderly couple that always walked and cornered you into unwanted hour long conversations...just when you were getting ready to leave for..school. work..ughhh it never seemed to matter.. it's one of those situations where you'd see them coming in the store and you'd go around the corner...if anything else to avoid a situation...yep a situation..you know what I'm talking about. This past year has been hard on this couple, the lady found out she had cancer and has been in and out of the hospital...I'd heard she was in the nursing home, and would most likely never return home... The house seemed surrounded by a sense of solemness and her husband..a once great outdoorsman...you never saw out...Sad...frown... The other day I was driving home and I saw them walking on the road, she on a walker...him by her side. I thought wow...I haven't seen her forever, and I was elated she was out of the nursing home and finally back home... It was good to see her walking...this time I didn't want to drive faster to get away from them...I knew in my heart I should stop, talk, and if it be hours.....well that was ok too.. They seemed so excited I'd stopped and asked me to come over to their house and see there yard.. I of course complied. We ended up walking around her yard, and she showed me her lovely water garden, and her herbs, her veggies, and their monster tomatoes who are quite frankly just awesome..... Fair Winners for sure.. They had these awesome grape vines which they said were from a start they'd received like 20 years ago...great stock indeed. The grapes were so lovely...Concord in fact. They asked me back to get a start of the grapes, and I will be back for sure. She also gave me a few starts of her "Rosary Vine" a interesting little well longgggg houseplant. As I left I felt really good about the whole encounter. I felt like the plant was a sign..and that the whole experience was meant...and in fact taught me a valuable lesson. What ??? That you can't take people for granted...you are never really that BUSY!!!! Even though we think we are... we are never to busy to stop and smell the roses and talk to people and make them feel special...Our interactions with others enrich our lives and the lives of those we interact with... SO take time for people...be nice...be sweet....it will all come back to your door... This I felt was the lesson of the Oak Moon for Me...The universe was shouting at me...Hey......listen up!!! I looked up the rosary vine and found out that the significance is very special...It's to open your heart...Yes the experience did just that. Bless Be
The oak can be used as a haven for restoration. When your spirit needs rest a
A bit on the Oak
The oak is comforting. You can be soothed beneath the tree's vast branches, and many sacred rituals were conducted in the shadow of an oak tree in Ancient Britain. Meditating with your spine resting on the trunk of an oak tree soothes the nervous system and induces feelings of inner peace.
Brave Energy
Oak trees act as a conduit for the energy of endurance, fortitude and strength, offering a magical remedy for fear and despair. They bring courage and protection from adversity.